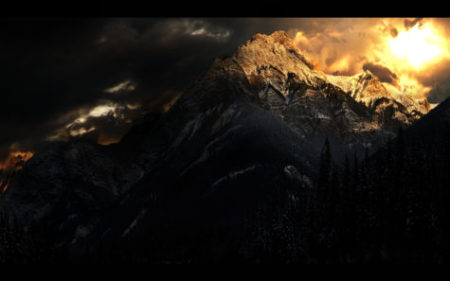 After pleading with his Jewish brother to come to Jesus so that He may bring the kingdom (Acts 3:17-21), Peter referenced the Torah in Acts 3:22-23:
Moses said, 'The Lord God will raise up for you a prophet like me from your brothers. You shall listen to him in whatever he tells you.  And it shall be that every soul who does not listen to that prophet shall be destroyed from the people.' 
Moses prophesied that a prophet would arise that was like him (Deut. 18:15-19), likely meaning that he would be a deliverer, lawgiver and head of the nation.  The prophecy was well-known by Jews at the time as they were looking for this prophet to arrive (cf. John 1:21, 25; 7:40).  Peter's sermon confirmed that this prophet is Jesus.  This means that from the time of Moses until Jesus, the kingdom in Israel could not have reached its sublime state.  Israel failed as a kingdom of priests because she could not obey on her own.  She did and still does need the Messiah to do the job.
The Millennium, is then, a necessary period in the saga of the kingdom.  It is the prophetic climax of God's overarching redemptive agenda.  His completed promises to Israel in the unconditional covenants will be on full display before a world of believers and unbelievers.  A holy Israel will shine in the midst of a world needing to know God.  This is a purpose that could never be achieved in the Eternal State because everyone will already know their Creator.  Once empowered to obey God through an intimate relationship with Jesus, His desired role for Israel will be realized.  She will be set high above all the nations of the earth (Deut. 28:1; cf. Is. 2:2-4; Mic. 4:1-3), as the head and not the tail (Deut. 28:13).  Had God simply raised up Israel to her ideal state immediately, the Jewish people would not have as much reason to worship Him.  Only after thousands of years of Israel trying and failing to be a light to the world, will she be able to truly appreciate the Messiah's redemptive work.  When Israel does become a light to the world, it will not be as the source, but as a reflection of the LORD's glory.  The glory of Jesus will shine before the world as nations will be drawn to His light and kings to His brightness (Is. 60:1-3; cf. 49:6; Zech. 8:22-23).
Remember, this series was only a survey and brief history of the kingdom.  Alva McClain's book, The Greatness of the Kingdom: An Inductive Study of the Kingdom of God, is highly recommended for further study.