In this current period between the advents it is mostly Gentiles and not Jews who are being saved by coming to know Jesus as Lord and Savior.  The cardinal passage on this age is found in Romans 11:25:
Lest you be wise in your own sight, I do not want you to be unaware of this mystery, brothers: a partial hardening has come upon Israel, until the fullness of the Gentiles has come in.
Israel's hardening is only partial, meaning that a small percentage of Jews are able to come to know Jesus/Yeshua.  The period of hardening is temporary and will end when the full number of elect Gentiles in this age are saved (cf. Acts 15:14).  After this, God will once again turn His attention toward the Jews and will save all Israel or all the Jewish people in the Promised Land just before and at His Second Coming (Zech. 12:10-14; Matt. 23:39; Rom. 11:26-29).
The times of the Gentiles gets its name from Jesus as found in Luke 21:24:
They will fall by the edge of the sword and be led captive among all nations, and Jerusalem will be trampled underfoot by the Gentiles, until the times of the Gentiles are fulfilled.
Messiah refers to a time in which Jerusalem will be trampled by Gentiles.  This began in 70 A.D. with the fall of the great city and the exile of the surviving Jewish people.  Jesus indicated that this was temporary by saying it would last only until the times of the Gentiles had come to completion.  The period Paul references is synonymous with what Jesus described here.  Both periods began soon after Israel rejected Jesus as Messiah and both will end when Israel accepts Jesus as Messiah.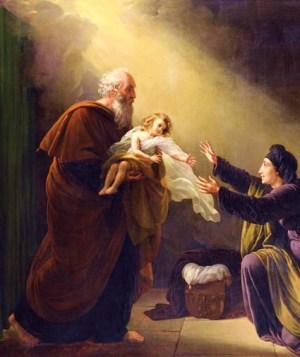 Though Jesus aticipates this period elsewhere, the examples are often overlooked even by those who understand this teaching.  One profound example is found in Luke 4:25-28:
But in truth, I tell you, there were many widows in Israel in the days of Elijah, when the heavens were shut up three years and six months, and a great famine came over all the land, and Elijah was sent to none of them but only to Zarephath, in the land of Sidon, to a woman who was a widow.  And there were many lepers in Israel in the time of the prophet Elisha, and none of them was cleansed, but only Naaman the Syrian."  When they heard these things, all in the synagogue were filled with wrath.
Just before this Jesus read Isaiah 61:1-2a[1] out loud and proclaimed that this Scripture had been fulfilled on that day.  This resulted in the crowd all speaking well of Him and marveling over His gracious words (Luke 4:17-22).  Jesus knew that the crowd was going to become angry with Him over what He was about to say (Luke 4:23-24).
Jesus alludes to two times in which God showed favor to Gentiles in lieu of Israel.  The first is when God ignored the widows of Israel during a three and half year[2] famine while sending Elijah to help a Gentile widow in Zarephath (1 Kings 17:8-24).  The second concerns God abstaining from healing any of the numerous lepers in Israel while choosing to remove the disease from the Gentile Naaman the Syrian (2 Kings 5:1-14).
The implication of these stories is that God was again going to favor Gentiles over Israel.  The crowd clearly understood this and became infuriated.  It was not that Gentiles were to come to know God that angered them so as that would have been expected (e.g. Is. 11:10; 42:1; 49:6). Rather, it was that Gentiles were going to be a priority to God over Israel.  Once Jesus was rejected by Israel the fall of Jerusalem soon came and the times of the Gentiles began.
[1] Jesus ceased from reading mid-sentence.  It was the words that He spoke that came to be fulfilled that day and no more.
[2] This period of judgment on Israel was a shadow of that yet to come (Rev. 11:2).