Those who never came to have a saving knowledge of Jesus will face judgment before the Great White Throne.  Because the unsaved do not have the blood of the Lamb to cover their sins (Rom. 3:25), God will judge them based on their works, find them guilty and then throw them into the lake of fire (Rev. 20:11-15).  This is a radically different judgment than the one where believers will stand before God to give an account (Rom. 14:10-12).  This judgment is not to determine one's final fate, for that was decided for each believer the second he or she came to trust in the work and person of Jesus Christ (John 3:16; Rom. 8:1).  Paul explicitly states that at this judgment even those Christians with perishable works will be saved (1 Cor. 3:15).
The judgment of those in the Body will be for the purpose of bestowing awards.  These awards determine one's office in the Kingdom, beginning in the Millennium.  2 Corinthians 5:10:
For we must all appear before the judgment seat of Christ, so that each one may receive what is due for what he has done in the body, whether good or evil.   
To be sure this will be a time for sorrow as those who love Jesus will face their own sin and failings in serving Him.  However, the greater emphasis will be on believers being honored for their faith and obedience.  It is the very Greek word bema, translated as judgment here that indicates an awards ceremony.  The imagery of this judgment comes from the ancient Olympic Games, where from a raised structure a judge would determine how athletes performed and what crowns they were to be awarded.
The most telling passage on how to perform well at the bema seat of Christ is found in 1 Corinthians 3:10-15:
According to the grace of God given to me, like a skilled master builder I laid a foundation, and someone else is building upon it. Let each one take care how he builds upon it.  For no one can lay a foundation other than that which is laid, which is Jesus Christ.  Now if anyone builds on the foundation with gold, silver, precious stones, wood, hay, straw—each one's work will become manifest, for the Day will disclose it, because it will be revealed by fire, and the fire will test what sort of work each one has done.  If the work that anyone has built on the foundation survives, he will receive a reward.  If anyone's work is burned up, he will suffer loss, though he himself will be saved, but only as through fire.
Those who build upon the foundation that is Jesus Christ (v. 11) must be careful to use works that are enduring like gold, silver and precious stones and not perishable like wood, hay and straw (v. 12).  On that day, fire will burn away all the perishable works and leave only those that were truly done for the sake of Christ (v. 13).  The works that survived the testing flames will determine one's level of reward (v. 14).  The works that are burned up are those that were not done according to God's will.  These burned works indicate a loss of reward (v. 15), for they ultimately added up to nothing but ash.
CROWNS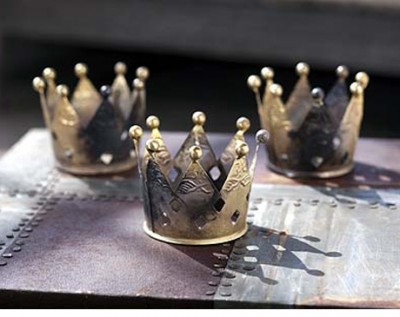 Though there may be many more, Scripture tells us that there are at least five different crowns that the saved are eligible to earn by running the race well (2 Tim. 2:5; Heb. 12:1).  These awards also borrow from the ancient Olympics, where athletes were crowned with laurel wreaths to signify performance.  The first of these prizes is the imperishable crown.  This will be awarded to those Christians who denied themselves and brought their old natures into subjection (1 Cor. 9:25).  Athletes practice self-control in order to obtain the perishable wreath.  The honor that comes from God remains forever.
The crown of boasting is earned by soul-winners.  It will be worn by those evangelists who took joy in being used to bring others to the Lord (1 Th. 2:19-20).  Those who turn many to righteousness will shine like the stars forever (Dan. 12:3).  The crown of righteousness is to be expected by all those who have loved His appearing and thus held to genuine doctrine (2 Tim. 4:7-8).  The Second Coming of Jesus is often mocked or minimalized not only by unbelievers, but even by some who claim to know Him.  However, the doctrine of Jesus' return is so highly thought of by God that He will reward those who longed for the blessed hope (Tit. 2:13).
God has promised the crown of life to those that love Him and have remained steadfast under trial (Jam. 1:12).  This certainly includes those who are tested to the point of martyrdom (Rev. 2:10).  The final crown is the unfading crown of glory.  It is given to those shepherds or church leaders that served and discipled their flocks without lording over them (1 Pet. 5:4).  It may seem unfair that this crown is apparently only available to church leaders.  Some balance comes in that those who become teachers will be held to stricter standards (Jam. 3:1).
Though the crowns and other awards are significant in the kingdom, the greatest joy in earning them will be in casting them at Jesus' feet (Rev. 4:10-11).  Even though the faithful rightly earned their rewards, the ability to do so came from abiding in Jesus.  Apart from Him, the Christian could not produce any genuine fruit (John 15:5).  Those great in the Millennium will have the opportunity to worship Jesus by attributing all that they are back to Him.
GREATEST IN THE KINGDOM
The conclusion that the awards issued by Christ indicate one's office in the Millennium is inferred from several passages that speak of being great or not so great in the Kingdom.  The principles derived from these many passages are simple.  To humble yourself like a child in the present world is to become great in the coming one (Matt. 18:1-4).  Those who are first will be last, and the last will be first (Matt. 19:30).  The meek are to inherit the earth (Matt. 5:5).  The meek will not just be living upon the earth, but they will enjoy authority under Christ in reigning over it.