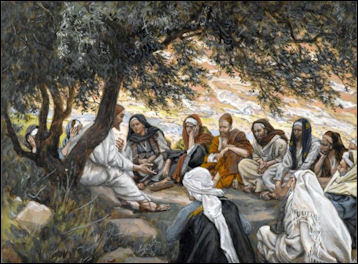 When Jesus chose apostles to make up His inner circle, it was no accident that there were twelve.[1]  That number alone tells us that on some level the twelve represent the tribes of Israel.  This representation was not limited to the period of the First Coming until each of the twelve died.  In electing the twelve, Jesus had their future positions in mind as witnessed in Matthew 19:28:
Jesus said to them, "Truly, I say to you, in the new world, when the Son of Man will sit on his glorious throne, you who have followed me will also sit on twelve thrones, judging the twelve tribes of Israel. 
Jesus speaks of a new world marked by Him sitting upon His glorious throne.  Those twelve of Jesus' closest followers will sit upon their own thrones as judges over the tribes of Israel.  It is likely that these twelve thrones will be in close proximity to Jesus' own Davidic Throne.  Just as Jesus sat down next to Father's throne in Heaven, so too will overcomers sit down next to Jesus' throne (Rev. 3:21).  Because of the numerical matching, each of the twelve will likely have his own tribe to manage.  Think of the twelve as department heads in the overall government of Israel.
A highly useful synoptic account of this is recorded in Luke 22:28-30:
"You are those who have stayed with me in my trials, and I assign to you, as my Father assigned to me, a kingdom, that you may eat and drink at my table in my kingdom and sit on thrones judging the twelve tribes of Israel.
Not only will the twelve sit on thrones next to Jesus, but they will also have seats at His table.  The imagery of eating together emphasizes the intimacy that the twelve will have with the King.  It is thought of as desirable to have the ear of an influential person.  This is the greatest example of that level of access.  Jesus vowed that He would not drink wine again until He could do it with the twelve in the Father's Kingdom (Matt. 26:29).  The twelve will have the privilege of eating and drinking with the King of kings on a regular basis.
Eleven of the heads over the tribes are to be Simon Peter, Andrew, James the son of Zebedee, John his brother, Philip, Bartholomew, Thomas, Matthew, James the son of Alphaeus, Thaddeus and Simon the Zealot (Matt. 10:2-4).  Judas will not be joining his former colleagues, for he is in his own place (i.e. Hell) (Acts 1:25).  The final head of the tribes will either be Matthias or Paul.  Matthias is unique in that he was the only member of the twelve not directly chosen by Jesus (Acts 1:26).  However, Paul was directly chosen by Jesus to be His apostle (Acts 9:1-31; 26:12-18; Rom. 1:1).  It is for this reason that it is surmised by many that Paul was the actual replacement for Judas.  A position is not taken here, but the possibility needs to be acknowledged.  Regardless, both Matthias and Paul are going to occupy high offices in the Millennium.
[1] The number twelve is often used in the Bible to signify perfection of governance.  Examples include twelve months in a year, twelve hours in a day (John 11:9), the twelve pillars erected at Mt. Sinai and the Promised Land (Ex. 24:4; Jos. 1:4-9), twelve Hebrews selected to conduct the census (Num. 1:2-16), twelve legions of angels (Matt. 26:53) and twelve types of fruit on the Trees of Life (Rev. 22:2).  Investigate more examples in Gen. 49:28; 1 Kgs. 7:25; Num. 7:10-83, 13:1-15; Luke 2:41; Matt. 10:2-4; Rev. 7:4; 21:12; and 21:16-17.