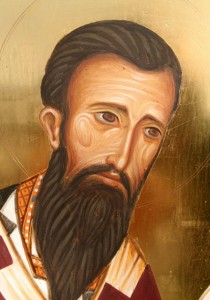 It is quite common for those who oppose Sola Scriptura (i.e. Scripture alone is the final authority on matters of faith) to posit that it was an invention of the Reformers.  This is an easy claim to refute both Biblically and historically.  Here the example of Basil of Caesarea is provided.
Basil of Caesarea or Basil the Great (ca. 320-379 AD) was a Cappadocian Church Father, contributor to the Nicene Creed and battler of Arianism (the heresy that denied the Trinity and taught that Jesus was a created being).  This great theologian and man of faith was also a champion and proponent of Sola Scriptura.  In Basil's letter to Eustathius the physician it is written:
They are charging me with innovation, and base their charge on my confession of three hypostases, and blame me for asserting one Goodness, one Power, one Godhead. In this they are not wide of the truth, for I do so assert. Their complaint is that their custom does not accept this, and that Scripture does not agree. What is my reply? I do not consider it fair that the custom which obtains among them should be regarded as a law and rule of orthodoxy. If custom is to be taken in proof of what is right, then it is certainly competent for me to put forward on my side the custom which obtains here. If they reject this, we are clearly not bound to follow them. Therefore let God-inspired Scripture decide between us; and on whichever side be found doctrines in harmony with the Word of God, in favor of that side will be cast the vote of truth.[1]    
The Arians did not just deny the Trinity because they felt that Scripture did not teach it, but also because their own traditions or custom did not.  Basil responded to this claim by saying that he could put forth his own custom which asserted the Trinity.  At that point each side would reject the opposing custom.  Therefore, neither side's custom could not be a source of authority.  For customs often contradict one another.  This is even the case within the same church as opinion changes custom over time.  Basil's solution was not to claim that his custom was one that had superior authority.   Instead, he looked to Scripture to decide between the customs.  Only those doctrines found to be in harmony with God's Word would be considered worthy.
Elsewhere in Basil's treatise on morality he writes,
What is the mark of a faithful soul? To be in these dispositions of full acceptance on the authority of the words of Scripture, not venturing to reject anything nor making additions. For, if "all that is not of faith is sin" as the Apostle says, and "faith cometh by hearing and hearing by the Word of God," everything outside Holy Scripture, not being of faith, is sin.[2]
A soul that was truly faithful to the God described in Scripture was one who put full acceptance on the authority of Scripture.  Once one rejected anything taught in Scripture or added doctrines to it, then the beliefs that resulted would be outside of faith and therefore a sin.  Does that mean that the traditions of the church fathers are completely useless?  No.
We are not content simply because this is the tradition of the Fathers. What is important is that the Fathers followed the meaning of the Scripture.[3]
Basil was happy to believe in the traditions of those Church fathers before him.  However, he could not be satisfied in relying on those alone.  What mattered is whether or not those who produced the traditions adhered to the meaning of Scripture.  The traditions of the Church were not superior to Scripture or even on an equal level.  Rather, the only authority the traditions or customs had was in where they followed what Scripture had already declared.
The Scriptures were inspired by God.  And they alone are enough to make the man of God complete and equipped for every good work (2 Tim. 3:16-17).  Obviously Basil understood this as he looked to what was written by God for his final authority over the traditions of mere men.
[1] Basil the Great, The Letters, Letter 189 (To Eustathius the Physician).
[2] Basil the Great, The Morals, 72:1.
[3] Basil the Great, On the Holy Spirit, ch. 7.